I have been busy, busy, busy sewing, crocheting, and otherwise crafting for Christmas! I love this time of year, and making heartfelt gifts for friends and family. But you know who often gets left out of the holiday gift-giving? Pets!
I made my kitty a paw-shaped stocking and always put a couple of gifts in it when I was a kid. These days I often find myself making another fun cat toy for my little buddy. I came across this post for cute (and hilarious) gingerbread men cat toys today on Dream A Little Bigger, and I just had to share. These donut toys are just adorable, too.
One Christmas we got my husband's mother's dog a giant peppermint-candy toy. It was so funny seeing her walk around with that big mint in her mouth! It didn't help her doggy breath at all unfortunately, but it sure was cute and she really enjoyed playing with it.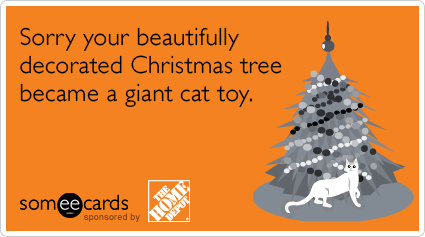 Don't forget your little furry buddies this Christmas – remember that the chocolate treats in your stocking are not good for your pets!